Swiggy business model, everyone wants to know because swiggy is India's largest food delivery platform with a net worth of over $3.6 billion.
About Swiggy Business Model
Company Name – Swiggy.
Industry – Online Food Delivery.
Founders – Rahul Jaimini, Nandan Reddy, Sriharsha Majesty.
Founded – 2014.
Subsidiaries – Love Food Ventures Private Limited, Scootsy Logistics Pvt. Ltd, Kint.io, Supr Techlabs Pvt. Ltd.
How Swiggy Started
Back then when swiggy was started out, food-tech was not so popular or attractive among people and zomato was the only leader in that market, but after their launch in 2014 swiggy worked hard and within 4 years they successfully reached the list of top unicorn companies in India!
Later on when zomato realized that they are far behind of swiggy so they invested millions of rupees to compete with swiggy and later on swiggy becomes zomato's main competition.
Swiggy is the fastest company to reach the 1 billion marks ( unicorn ), surprisingly Flipkart which is India's one of the most successful startups took 6 years to hit the 1 billion mark whereas swiggy took only 4 years.
What Makes Swiggy Business Model Better Than Others?
It is very surprising that three entrepreneurs that belong from different backgrounds put together their effort and build India's most popular internet consumer firm, but what are their efforts that make swiggy so successful than others?
Swiggy is probably the only startup that comes into late 2014 and literally smashed all the competitors and market leaders such as zomato and Foodpanda and some of them collapsed.
Things that make swiggy better than others:
1 ) A Great Team:
We know that for any business to succeed a solid and well knowledgable team is needed that's where swiggy rock.
From their previous experience from their parent company Bundl they learned and put together unique skills for swiggy and that did wonders for swiggy.
Majesty was a trader in London, later on, he discovered that he not enjoying his high-paying corporate job and decided to travel the world and then he realized that he wanted to do something of his own.
On the other hand, reddy was a business consultant for a company and then later on he decided to open a biriyani joint in Hyderabad, with that he also builds cloud-based software that works as a point of sale service with other businesses.
After some time they meet jamini who studied abroad and worked with some of the big companies such as NetApp and Myntra and he executed his tech skills with his cofounders to create swiggy a bridge between restaurants.
A turning point came into their idea when jamini put his technical thought into swiggy and make their vision strong.
Just because of his technical they successfully launched swiggy that clearly beat its competitors.
The other best part of these 3 co-founders is that they don't just focus only on Their business growth they focused on how to create a system that will viably improve the overall food delivery model.
They also try to create something new with swiggy that never been done before, that can help both of his own business and also others can get benefit from it and that's where swiggy business model far ahead than others.
2 ) Value Propositions:
Do you know what makes swiggy business model popular among its consumers? their Value Propositions, it is so great that you have no minimum amount of order requirement you can literally order under 100 rupees!
It is there value proposition only that helps swiggy to make over 1 million orders per month.
Except for the food delivery business model swiggy also works on various models such as grocery delivery, medicine delivery, and other important stuff to their customer's doorstep.
Swiggy is also known for swiggy go which is a service launched by swiggy for their customers to deliver important documents, keys, and anything that is possible within the city.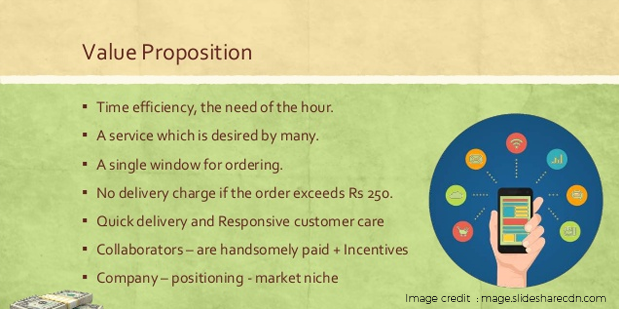 If you are intrested to know more about value proposition check out this resource.
3 ) Swiggy catch the trend before others do
One thing that is really awesome about swiggy business model is that they catch the trends earlier and they know their customers.
Swiggy was not the first startup for Nandan Reddy and Rahul Jaimini before swiggy they stated a company named Bundl which aim to solve the pain point of Indian e-commerce space.
But they realized that there is a far more better opportunity in food delivering business model if they execute it properly, so they contact with their third founder Myntra software engineer and IIT alumni Rahul Jaimini.
Together these three take a risk to start when all other similar business models were shutting down such as Dazo, Eatlo and Spoonjoy also failed drastically which is being started by Grofers.
Other major food delivering platforms such as food panda, TinyOwl, Ola Cafe were also failed.
4 ) Logistics
It seems like everything was right For swiggy but one thing that drives the success force behind them is their logistics.
From their beginning swigyy always take care of their customers than anything else, they always maintain hygiene and try to create an app that can help to change the food delivery system rather than just a food supply chain.
When everyone cutting out their logistics including Flipkart, swiggy realized that to crack the food-tech market they should have a proper and fast logistics system.
As said by Mukul Arora there are two things that swiggy focuses on, one is they truly believe in customer satisfaction that is customer-obsessed, and the second is that from the very beginning they focus on building solid team management that many startups do not take into consideration.
Ease Of Payment
Ordering from swiggy is literally very very simple so as their payment options you can pay them via digital wallets, credit or debit card, UPI.
worried about if you don't have cards or wallets? don't worry swiggy accept pay on delivery method as well as lazypay that is have your meal and pay later.
Their digital wallets inculde:
Paytm Wallet.
Phonepe.
Amazon Pay.
Google pay.
Mobikwik.
Freecharge.
Swiggy Customer Service
As mentioned earlier swiggy mainly focuses on their customers first so it is quite obvious that swiggy will include good customer support in their business model such as:
Swiggy Service phone number.
How swiggy is available to its customers:
There are mainly 3 modes by which swiggy is available to their customers which are:
Android app.
IOS App.
Website.
Swiggy also connect with their customers via social media and with their digital marketing efforts. swiggy know the importance of their customer engagement and to do that they engage with their audience in social media platforms, they also developed a positive loop of rating, review and feedback system.
Swiggy patnership:
When we are talking about swiggy business model it's worth sharing the list of companies acquired by swiggy
Some companies acquired by swiggy are:
Kint.io.
Scootsy.
48East.
SuprDaily.
some of the popular partners of swiggy are majorly hotels and Restaurants, apart from that swiggy also have partnerships with pharmacies and groceries.
some of the popular groceries partnership with swiggy are Sodhi Super Marche, Garg Dastak, Best Basket, and some of the popular pharmacy partnerships are PharmEasy, Myra, medlife, and medplus.
Key Activities Of Swiggy:
as of know we know that swiggy covered a lot of loop holes of the system and make them perfect for their user experience but what are their some key activities?
They tie up and create a good partnership with restaurants and retail shops.
They manage their delivery boys both full time and freelancer.
Swiggy maintains an updated IT and technical support system.
They are very good at both acquiring new customers and mainaining the old ones.
Easy and covinient paymeny accepting methods.
Swaiggy maintains a good relationship with retailers and wholesalers.
How Swiggy Earns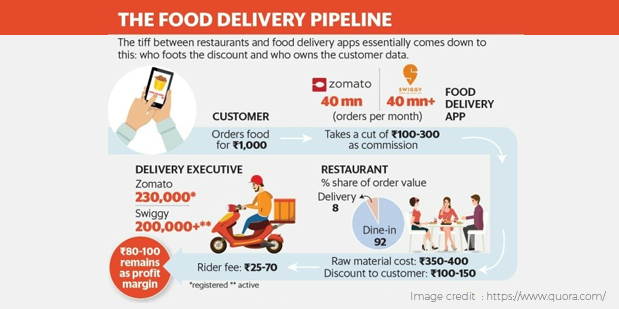 Majority of food-tech startups earn by commissions, they charge restaurants for every order placed using swiggy application.
Generally restaurants pay 15%-20% for every order placed using swiggy application.
Except for Commission swiggy also earns via different mediums such as:
Affiliate.
Swiggy Super.
Swiggy Access.
Advertising.
Delivery charges.
Let's discuss one by one how swiggy earns using their business model-
Affiliate-
I am sure that you came across some sort of credit card offers while using swiggy platform, that what affiliate is, generally swiggy tie-up with banks like HDFC, Citibank, ICICI bank and when any user apply these cards using their platform they charge money to these banks.
To know more about affiliate earning model check out these resource.
Advertising-
In this revenue system swiggy places ads in their application in the following ways such as:
Banner Ads– Swiggy promote other businesses by displaying banner ads into their Food app swiggy. They display different ads in different locations, and they charge money to the brand to display their ads.
Listing Of Restaurants– Sometimes some restaurants want higher positions in the list of available restaurants, so they pay an extra high amount of money to swiggy to promote them in the list.
Delivery charges-
This is not new and we all know that when we order something below a particular amount swiggy charges a delivery fee of 20 to 40 rupees to their customers.
Swiggy Access-
All of us may not know that swiggy also has a cloud kitchen concept mainly focuses on bringing quality food closer to its consumers and helps restaurant to expand their businesses.
Swiggy will provide ready to occupy kitchen setups to their partner restaurants and no rest or deposit money will charged from them said in their statement.
Sriharsha Majety said

"With Swiggy Access, we are diversifying local palettes, bridging geographical gaps in supply and solving for variety, quality and convenience of food."
"At the same time, it will enable our restaurant partners to expand to newer neighbourhoods and a larger consumer base, at a fraction of the expense,"
Swiggy Super-
Swiggy super is a subscription-based model where they provide subscriptions to their customers which offers them free unlimited delivery above ₹99. If any customer subscribes to this program they don't have to pay any additional amount for delivery.
Expenses Covered By Swiggy:
Business meaning money but wait! you have to earn and invest as well, so far we discussed how swiggy earns and swiggy business model but what are the expanses covered by swiggy? let's see
Swiggy is not a small company or a new venture its a $3.6 billion valuation company, so to manage an unicorn company on daily basis you need to invest every day in a small amount or so that covers:
Their running cost and maintenance charges.
Returns, refunds, or canceled waste food and miscellaneous.
Their cloud provides a kitchen base layout that also requires Maintenance and setup cost.
their advertising and marketing costs.
application and website Maintenance.
paying their employees and delivery partners.
they also give additional discounts and offers.